Riviera Point information
The View Riviera Point with a prime location, located in the center of District 7, adjacent to the Phu My Hung urban area, Cityland riverside villas, and the existing residential area on Huynh Tan Phat street. It's easy to move from the apartment to The center of District 7, District 1, and the neighboring districts, just about 5 – 20 minutes.
Overview of Riviera Point apartments in District 7:
Location: Nguyen Van Tuong, Ward Tan Phu, District 7, through the Phu My bridge – Ho Chi Minh city – Long Thanh – Dau Giay highway
Surface area: 120.000 m²
Number of blocks: 10
Number of floors: 40
Number of apartments: 2.099
Apartment area: 91 – 300 m²
Investor: Keppel Land, Tan Truong
Cooperation process
The Riviera Point D7 is the second official location that SantaPocket is available! It is a pleasure to be cooperated with Riviera Point Management to install SantaPocket Smart Locker in March 2022 quickly. Thereby bringing many conveniences in sending and receiving orders as well as optimizing the quality of life for the residents here.
The project was implemented and officially debuted to the residents on March 24, 2022 with 3 cabinets. SantaPocket hopes this cooperation will bring more success and innovation. Thereby is also a stepping stone in bringing SantaPocket Smart Locker to more users on a larger scale.
To celebrate the arrival of the "new companion," a special event was a must: the SantaPocket Smart Self-service Locker launching event. Residents will be more aware of the brand as well as the advantages of this system through the event.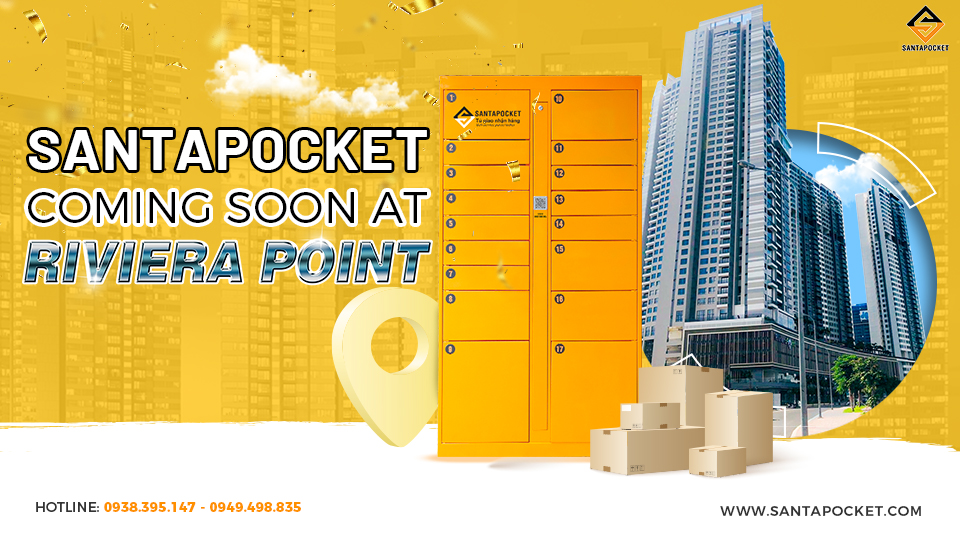 The difficulties that SantaPocket has encountered
To be honest, every beginning has to face different difficulties, but SantaPocket uses that as a motivation to strive and improve ourselves instead of hiding and running away.
In the very first days of launch, SantaPocket faced many difficulties that residents and people who believe and love SantaPocket need to know, that:
Most of the residents use COD service; including gen Z.
PG's working time is limited so as not to disturb the residents.
Shippers have few orders, deliver sporadically, and tend to leave at the reception.
The reception of an apartment is both an advantage and disadvantage
In such a situation, SantaPocket quickly came up with a solution to fix it and implemented it as soon as it was approved by the Apartment Management Board, thereby bringing a great improvement and reaching many residents quickly.
Support shipper to receive later with COD orders.
Change PG's working time to suit the target customers.
Spread information about the service through LCD screens in elevators, and tent cards at the reception.
Instruct the receptionists, security guards to support the customers on time.
Some pictures in reality
SantaPocket would like to give a special thanks to our Customers & Partners for giving us a chance to run this project successfully. Let's take a look at some actual pictures taken at Riviera Point and look forward to many more beautiful moments!
Thanks for watching!