? From December 8th, SantaPocket top-up feature is available and we will start charging for cabinet rental with the price from only 500VND/30 minutes, please make sure to follow up so as not to get confused when using.
? You can now fully top up your wallet with these 3 simple steps:
Step 1: Go to SantaPocket App and select "Top up"
Step 2: Select the amount then choose "Momo Wallet"
Step 3: Enter your Momo password then "Confirm"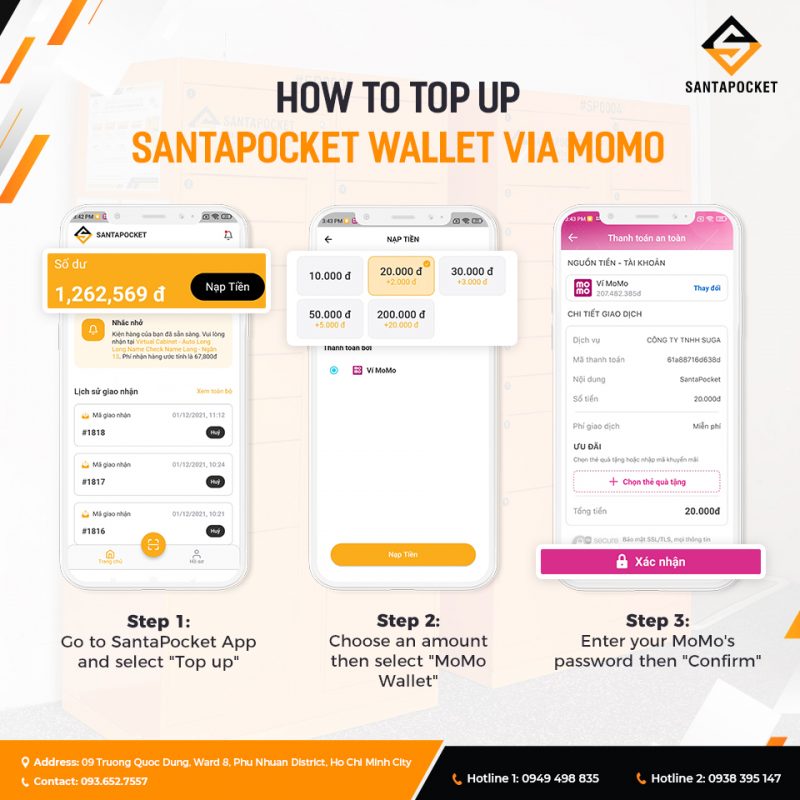 By charging cabinet rental fee, we hope to help you to enhance your experience as well as create more opportunities for other customers to use the cabinet in the future.
? Last but not least, don't forget to UPDATE your App at Appstore to experience our new feature!
—————-
Download SantaPocket at:
? IOS: https://apps.apple.com/app/id1507758260
? Android: https://play.google.com/store/apps/details?id=com.sugamobile.santapocket&fbclid=IwAR2mKtBPl_sepPWPwrons5IW8mrF-KtE3kA7mI-Wa1GoFUo91iHoQXf29N0
#SantaPocket #SmartDeliveryLocker #Combros #Sugaproduct
#Tukhoatienich #Tugiaonhanh #Sieutienichsieutietkiem #Dichvuchothuetu